In February, we shared A Guide to Common Certifications, which details basic information about the various labels that might be on the packaging of your food.
Now, over the next four weeks, we are excited to delve deeper into the legitimacy, importance and history of a number of these labels. Today we will begin our journey into understanding common certifications with an in-depth look at USDA Organic certification.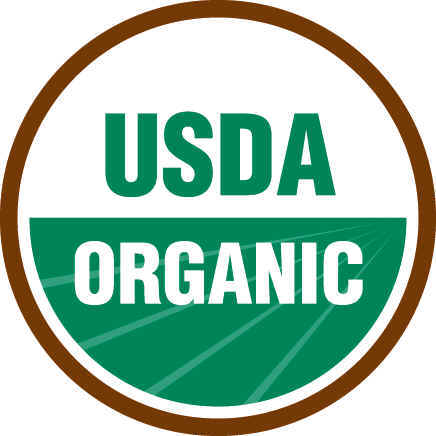 In today's society, we often use the term organic as a synonym for healthy, but it truly is much more than that.
USDA Organic certification is idealistically a holistic, "farm to table", an approach to the production of food, alcohol, textiles, and cosmetic products. This means that every step of the operation from soil health and seeds, all the way to shipping, has been reviewed and deemed organic.

The organic regulations vary based on the type of product. The criteria for "crop production" includes soil fertility, organic seeds, crop rotation, PAMS Strategy for pest management (with synthetic pesticides as a last resort), and crop integrity.
Here integrity refers to not allowing organic crop to come in contact with not-certified crops, fertilizers or pesticides. For livestock, all animals must be raised on 100% organic feed. Regulations also extend to handling standards. More on the standards and regulations can be found here.

There are 4 different levels of USDA organic certification: Organic ingredients, Made with organic, Organic, and 100% Organic. Only products that have been certified as organic and 100% organic, may use the label on the product. More information about the 4 levels of certification can be found in the image below.
Keeping in mind the environmental and health benefits of organic certification such as regulation of chemical pesticides, there are a variety of reasons for consumers to be wary of relying on USDA Organic.
Here are four concepts to keep in mind:
A farm or company must pay for certification. This requirement, which is almost universal to certification, limits the operations that can seek this certification, often excluding small, local farms.
Standards regarding animal welfare are extremely limited. While the regulations are clear regarding organic feed and hormones, the language regarding access to outdoor space is not clearly defined. In 2018, the ASPCA joined a lawsuit against the USDA to firm up these regulations.
Natural does not mean safer. Although USDA Organic calls for natural, rather than synthetic (chemical or genetically-modified) additives, not all natural substitutes are safer to use. Organic pesticides are still linked to diseases, and organic foods such as rice still contain carcinogenic chemicals such as Arsenic.
There is no proof that organic food is healthier than conventional food. For example, a four-year study at Stanford University comparing organic and conventional fruits did not find extra health benefits to organic fruits.
With all of this said, there are clearly positives and negatives to the USDA Organic label. While it can be a great starting place to knowing more about your product, it is not a tell-all about the true nature of the product.
***
GreenChoice, PBC has evaluated and rated more than 340,000 food & beverage products across hundreds of attributes related to diet, health, and sustainability. Easily find the best products for you, the planet, & your budget. Download the free GreenChoice app for Apple iOS or Android!