Both organic and conventional fresh fruits and vegetables are rich in a number of nutrients required for health and survival, including essential vitamins and minerals. What's more, they're loaded with beneficial plant compounds known as phytochemicals (1).
The added benefit of choosing organic fruits and vegetables is that they are grown without using potentially harmful synthetic herbicides, pesticides, or fertilizers (2).
Organic or not, fruits and vegetables plays an important role in the prevention of many chronic diseases, including heart disease, cancer, stroke, diabetes, and more (3).
You may wonder, is it possible to reap the same health benefits from organic juice?
Here's a breakdown of the health effects of organic juice, plus our top recommendations for organic juice brands you can find at a grocery store near you.
Benefits of drinking organic juice
While whole fruits and vegetables undoubtedly have their benefits, juice can also help promote health. In fact, juice is packed with many of the same nutrients and beneficial plant compounds.
What's more, choosing organic juice brands over conventional varieties is a great option for those concerned about potential pesticide exposure and unsustainable farming practices.
Organic juice is a convenient source of nutrients
Studies indicate that it is possible to obtain many of the same important nutrients from juice as from whole fruits and vegetables (4).
The 2015-2020 Dietary Guidelines include fruit juice in the fruit food group, stating that 1 cup of 100% fruit juice counts as 1 cup towards your recommended daily fruit intake. Similarly, 1 cup of 100% vegetable juice counts as 1 cup towards your recommended daily vegetable intake (5).
Further, the guidelines recommend consuming 100% fruit juice over sugar-sweetened beverages such as soda to reduce added sugars and empty calories in your diet (5).
If you struggle to consume the recommended five servings of fruit and vegetables daily, drinking fruit or vegetable juice — in moderation — may help you improve the quality of your diet.
Studies show that drinking juice may be a convenient and effective way to increase your intake of many important nutrients found in fresh fruit and vegetables — except for fiber, unfortunately (6, 7).
Organic juice has many potential health benefits
In addition to providing many of the nutrients contained in fresh fruit and veggies, juice may also improve sleep quality, mood, brain function, immune health, and heart health.
According to one study in 20 healthy adults, the phenolic compounds – a type of phytochemical – provided in 230 ml of purple grape juice may improve mood and brain function (8).
Other studies indicate that antioxidant phytochemicals found in pomegranate juice may have protective effects against heart disease, and the melatonin found in tart cherry juice may improve sleep quality (9, 10, 11).
Organic juice may help reduce pesticide exposure
Pesticide exposure has been associated with an increased risk of chronic illnesses such as cancer, heart disease, and respiratory diseases.
As with fresh fruit, fruit juices may contain pesticide residues (12).
One study measured urinary levels of 13 different pesticides in 16 individuals and found that switching to an organic diet reduced pesticide exposure by an average of 59% (13).
As such, consuming organic juice may allow you to reap the health benefits of juice without exposure to potentially harmful synthetic pesticides (12, 13).
Many may also choose organic juice for the environmental benefits. As the use of synthetic pesticides is prohibited in organic farming, choosing organic supports the mitigation of water pollution and carbon emissions (16).
Downsides of organic juice
Though organic juice has many potential benefits, there are certain downsides.
For one, studies show that while whole fruit consumption is associated with a lower risk of type 2 diabetes, a greater consumption of fruit juice may be associated with a higher risk (17).
Studies have also compared the heart healthy benefits of whole fruit versus juice with and without pulp. In one study, researchers found that pulp-free juice increased levels of LDL (bad) cholesterol in the blood by 6.9%, while whole fruit and juice with pulp decreased LDL cholesterol. Ultimately, this shows that while whole fruit and pulpy juice may help improve heart health, pulp-free juice may have negative impacts (18).
The Dietary Guidelines for Americans recommends at least half of your total fruit intake come from whole fruit and vegetables. That's because fresh fruit and vegetables have one major advantage over juice: fiber.
Fiber helps slow the release of sugar into your bloodstream, is great for your gut health, and also adds bulk to food. Whereas juice is less filling and can be easy to overconsume, the fiber in whole fruit helps keep you full (19).
How to choose an organic juice
Here are some tips to help you reap the full nutritional benefits of organic juice:
Look for the organic seal. The organic seal indicates that at least 95% of ingredients are certified organic and produced without the use of most synthetic pesticides and fertilizers (20).
Choose 100% fruit juice. To avoid added sugar, choose unsweetened varieties made with 100% fruit juice.
Limit your serving size. Since juice is not as filling as whole fruit, stick to a 1-cup serving to avoid consuming excessive calories and sugar. Keep in mind, many single-serve bottles contain much more than 1 cup.

Here are our top picks for organic juice to try, with no added sugars:
1. Evolution Fresh
Founded almost 30 years ago and acquired by Starbucks in 2011, Evolution Fresh produces a line of organic juice that has been cold-pressed using high pressure processing instead of heat pasteurization.
Their ulta-refreshing fruit and vegetable juice blends contain no added sugar or preservatives. Evolution Fresh juices can be found at most Starbucks locations and select retailers.
Get the full dietary breakdown for Evolution Fresh Organic Green Devotion Juice Blend.
2. BluePrint
BluePrint has a colorful lineup of nutritious juices that are certified 100% USDA organic, raw, vegan, and gluten-free.
Their organic juice products come in a variety of flavors and are made with no added sugar or other added sweeteners.
Get the full dietary breakdown for BluePrint Organic Watercress Warrior Juice.
3. Biotta Juices
Biotta offers ten different Non-GMO Project Verified USDA organic juices, including Beet, Carrot, Elderberry, Tart Cherry, Apple Beet Ginger, and more.
Biotta's fresh and functional juices are made from naturally grown and vine or field-ripened fruits and vegetables and produced through gentle decanting and low-heat pasteurization to help retain nutrients during processing.
Get the full dietary breakdown for Biotta Juice Naturals Beet Juice.
4. R.W. Knudsen Family
R.W. Knudsen Family was the first in the country to volunteer to become a certified organic processing facility, and about half of their products are made with 95% or greater certified organic ingredients.
Their line of certified USDA Organic juice includes unique flavors like Celery Apple Cucumber Juice Blend, Cranberry Blueberry, Acai Berry, and more.
Get the full dietary breakdown for R.W. Knudsen Family Organic Grapefruit Juice.
5. Lakewood Organic
Lakewood Organic juices are USDA Organic and produced according to strict guidelines involving soil quality and pest and weed control.
Their organic juices are non-GMO, contain no added sugar or preservatives, and packaged in 100% recyclable glass containers.
Get the full dietary breakdown for Lakewood Organic Pure Pomegranate Biodynamic Juice.
6. Santa Cruz Organic
Santa Cruz Organic® offers more than 50 organic items ranging from organic juices and lemonades to organic fruit sauces, chocolate syrups, peanut butters, and fruit spreads.
The Santa Cruz Organic Juice product line is USDA Organic and includes Apple Juice, Concord Grape Juice, Orange Mango, Red Tart Cherry, and more.
Get the full health dietary breakdown for Santa Cruz Organic Ginger Juice Blend.
7. Suja Juice
Suja Juice offers organic, non-GMO, and preservative-free functional shots and slow-brewed Kombucha.
Their line of cold-pressed juices are preserved though high pressure processing instead of high heat pasteurization. They offer a large collection of unique fruit and vegetable juice blends that are packed with nutrients.
Get the full dietary breakdown for Suja Juice Coldpressed Sweet Beets Juice.
Key takeaways for buying organic juice
While not as nutritious as whole fruit and vegetables, juice does contain essential vitamins and minerals, making it a convenient way to boost your nutrient intake. What's more, choosing organic juice brands may help reduce your exposure to potentially harmful pesticide residues.
When shopping, look for 100% fruit juices with an organic seal. To avoid overconsuming calories and sugar, be mindful of your portion sizes. One measured cup of either fruit or vegetable juice equates to one serving towards your recommended 5 servings of fruit and vegetables daily.
Our favorite organic juices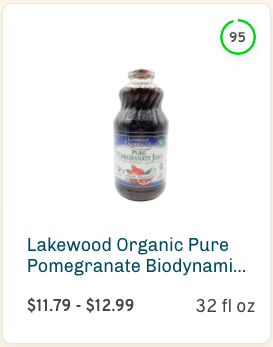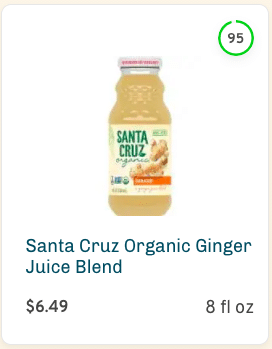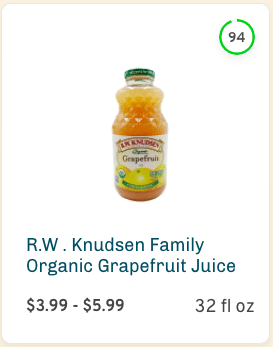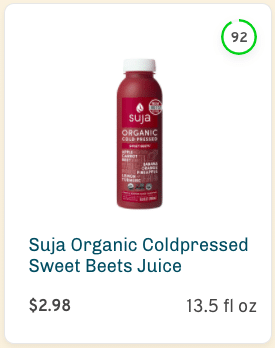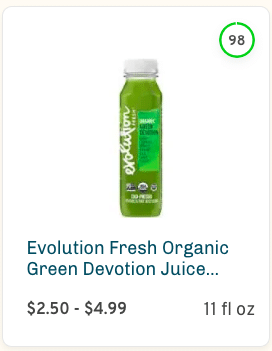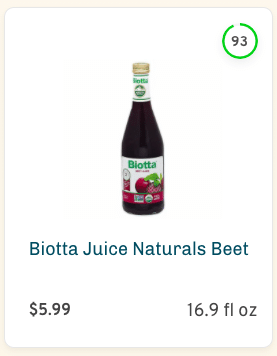 ***
GreenChoice, PBC has evaluated and rated more than 340,000 food & beverage products across hundreds of attributes related to diet, health, and sustainability. Easily find the best products for you, the planet, & your budget. Download the free GreenChoice app for Apple iO or Android!